"The common birds at bird feeders in Nebraska" explores the diverse range of bird species that frequent bird feeders throughout the year in Nebraska. At the top of the list is the Mourning Dove, known for its gentle cooing and calm demeanor. The article also highlights two videos that provide valuable insights into these feathered visitors – one video offering a quick overview, and the other diving deeper into the various species. Alongside the Mourning Dove, Nebraska's bird feeders are also frequented by the vibrant Northern Cardinal, the striking Red-winged Blackbird, the charming American Goldfinch, the industrious Downy Woodpecker, the sociable House Sparrow, the intelligent Blue Jay, the distinctive Northern Flicker, the gregarious European Starling, and the charismatic Common Grackle. With a variety of birds adorning feeders, Nebraska proves to be a haven for both avid birdwatchers and nature enthusiasts alike.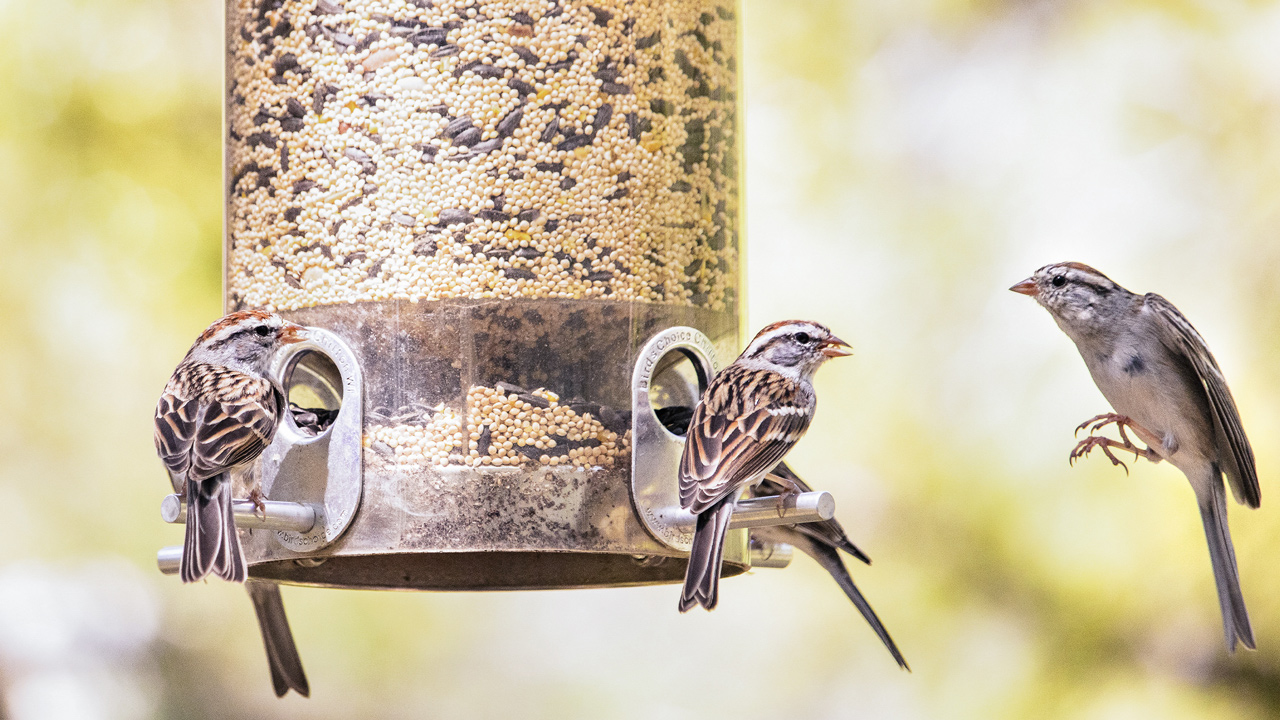 The Mourning Dove
The Mourning Dove (Zenaida macroura) is the most common feeder bird in Nebraska throughout the year. These birds are known for their soft and gentle cooing sounds, which can often be heard in suburban areas. The Mourning Dove has a grayish-brown body with a long, pointed tail. They have a wingspan of about 17 inches and weigh around 4.2 to 6.0 ounces.
Mourning Doves are ground-feeding birds and are often seen searching for food on the ground or perched on elevated surfaces such as fences or tree branches. They primarily feed on seeds, grains, and sometimes fruits. In the winter months, they rely heavily on backyard feeders for their food source.
Video Resources
If you're interested in learning more about feeder birds in Nebraska, there are two videos available that can provide you with a wealth of information. The first video is an overview of feeder birds in Nebraska, giving you a brief introduction to the different species you might encounter. The second video offers more in-depth information on feeder birds in Nebraska, diving deeper into their behavior, habitat, and feeding habits.
These videos can be a valuable resource for both beginners and experienced bird enthusiasts looking to identify and learn more about the birds they see at their feeders.
Overview of Feeder Birds in Nebraska
This video provides a quick overview of the common feeder birds you may encounter in Nebraska. It highlights the unique characteristics of each bird species and offers tips on identifying them. The video also discusses their preferred habitats and feeding preferences, allowing you to create an environment in your backyard that will attract these beautiful feathered visitors.
In-depth Information on Feeder Birds in Nebraska
For those seeking more detailed information, this video delves into the behavior and biology of feeder birds in Nebraska. It explores their migration patterns, breeding habits, and seasonal changes in their plumage. The video also provides valuable insights into their interactions with other bird species, allowing you to gain a deeper understanding of the ecosystem that surrounds your feeder.
The Northern Cardinal
The Northern Cardinal (Cardinalis cardinalis) is another common bird you may spot at your feeder in Nebraska. Known for its vibrant red plumage, the Northern Cardinal is a sight to behold. Male cardinals have bright red feathers, a distinctive black mask, and a crest on their head, while females have a more subdued reddish-brown coloration.
Cardinals are primarily seed-eaters and will readily visit feeders stocked with sunflower seeds, safflower seeds, or black oil sunflower seeds. They are also known to feed on fruits, insects, and berries. Cardinals are year-round residents in Nebraska, making them a delightful addition to any backyard bird-watching experience.
The Red-winged Blackbird
The Red-winged Blackbird (Agelaius phoeniceus) is a common sight in wetland areas and open fields throughout Nebraska. The males of this species are easily recognized by their glossy black feathers and distinctive red and yellow shoulder patches, while females have a more muted brown coloration.
Red-winged Blackbirds are highly social birds and are known for their loud, distinctive songs. They will often perch on cattails, fence posts, or other elevated surfaces and vocalize their presence. While they primarily feed on insects, seeds, and grains, they can also be attracted to backyard feeders stocked with sunflower seeds or suet cakes.
The American Goldfinch
The American Goldfinch (Spinus tristis) is a small, vibrant bird that is commonly found in Nebraska. During the summer months, male Goldfinches sport bright yellow plumage, while females have a more muted yellow-green coloration. In the winter, both males and females transition to a drab olive-brown color.
Goldfinches have a unique diet preference, as they are primarily seed eaters. Their beaks are specially designed to extract seeds from thistle and other prickly plants. If you want to attract Goldfinches to your feeder, providing them with Nyjer (thistle) seed is a must. These birds are known to be acrobatic eaters, often hanging upside down while feeding.
The Downy Woodpecker
The Downy Woodpecker (Picoides pubescens) is the smallest and most common woodpecker found in Nebraska. Despite its small size, this bird has a distinctive black and white pattern on its back, wings, and head. Males have a small red patch on the back of their heads.
Downy Woodpeckers are cavity nesters and are often seen drumming on trees to establish their territories and attract mates. They have a varied diet, feeding on insects, seeds, berries, and tree sap. At feeders, they are attracted to suet cakes, peanuts, and sunflower seeds. Providing a mix of food options will greatly increase your chances of attracting these charismatic birds.
The House Sparrow
The House Sparrow (Passer domesticus) is a small, adaptable bird that is commonly found near human settlements, including rural and urban areas. They have a plump body, short tail, and are typically brown in color with black streaks on their wings.
House Sparrows are opportunistic feeders and will readily visit backyard feeders for an easy meal. They have a diverse diet, ranging from seeds and grains to insects and scraps of human food. Offering a variety of food options, such as millet, sunflower seeds, and bread crumbs, will help attract these lively and social birds to your feeder.
The Blue Jay
The Blue Jay (Cyanocitta cristata) is a striking bird known for its vibrant blue plumage, crest on its head, and white underside. They are highly vocal birds, with a wide range of calls and songs, including their famous loud, sharp jay jay call.
Blue Jays are omnivorous and have a varied diet. They eat a wide range of foods, including insects, nuts, seeds, berries, and even small vertebrates such as frogs and lizards. Blue Jays are intelligent birds and are known to cache food for later consumption. To attract Blue Jays to your feeder, consider offering peanuts, suet cakes, or sunflower seeds.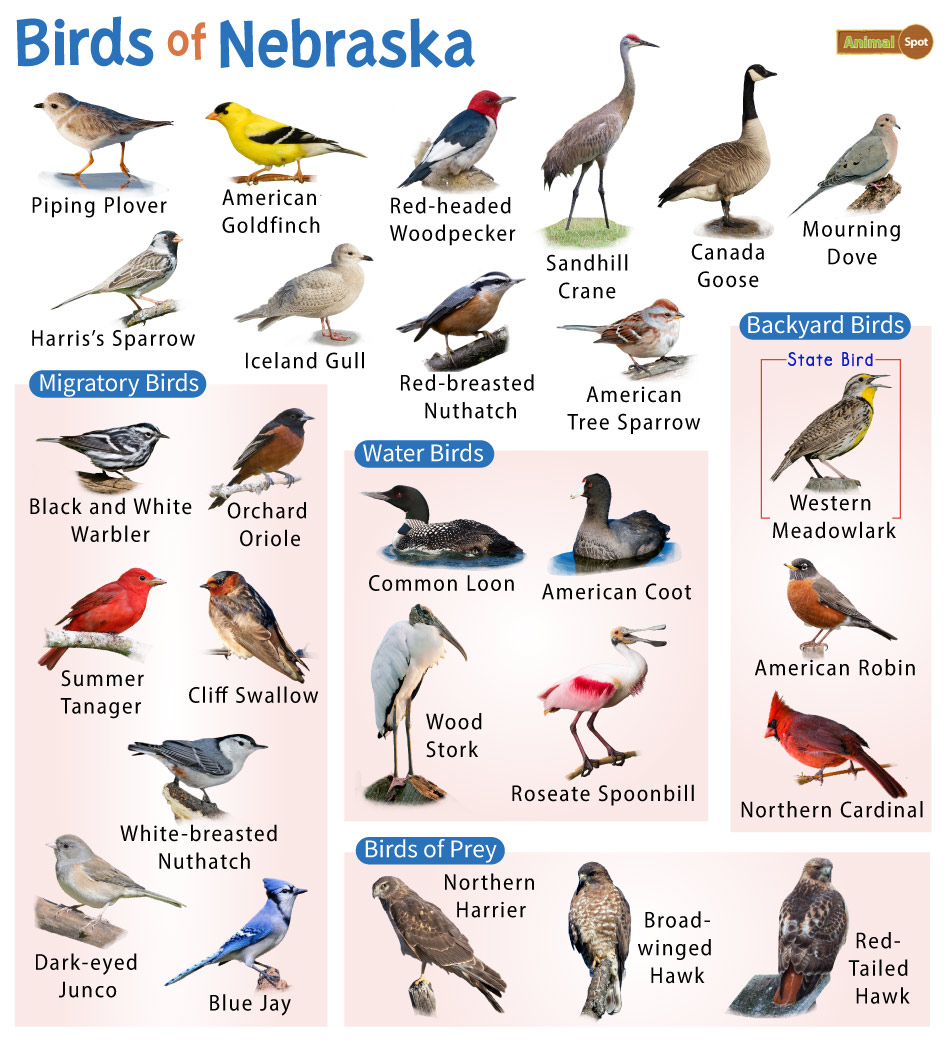 The Northern Flicker
The Northern Flicker (Colaptes auratus) is a unique woodpecker species that can often be found in Nebraska. These birds have a brown body with black bars on their back and a distinctive crescent-shaped black patch on their chest. Their wings have a white rump that is visible during flight.
Northern Flickers have a varied diet, feeding on insects, ants, fruits, seeds, and berries. They use their strong beaks to dig for ants and beetles in the ground. Flickers are often attracted to suet feeders and can also be enticed by offering raisins, grapes, or crushed peanuts.
The Common Grackle
The Common Grackle (Quiscalus quiscula) is a large blackbird with a long, slightly keeled tail. The male Grackles have an iridescent black plumage with hints of purple or blue, while the females have a more subdued brown coloration.
Grackles are known for their loud, raucous calls and their flocking behavior. They can often be seen in large numbers, particularly during the spring and fall migrations. Grackles have a varied diet, feeding on insects, fruits, seeds, and grains. They are also known to visit backyard feeders, where they are attracted to suet, cracked corn, and sunflower seeds.
In conclusion, Nebraska is home to a diverse array of bird species that can be observed at backyard feeders throughout the year. From the elegant Mourning Dove to the colorful Northern Cardinal and the acrobatic American Goldfinch, each bird brings its unique charm and beauty to the feeding stations. By providing the appropriate food and creating a welcoming environment, bird enthusiasts in Nebraska can enjoy a delightful avian display right in their own backyards. So, grab your binoculars and prepare to be amazed by the feathered visitors that grace your feeders. Happy bird-watching!